There are 1 open polls on the site right now. To participate, log in to your account, and the questions will be available on the front page.
Announcing the Warcraft Logs Companion
We're excited to announce the immediate beta release of the new Warcraft Logs Companion app. The app takes on the functionality of the Warcraft Logs Uploader and goes much further.
Upload your combat log. Analyze your raid. Improve your play. All in game.
The Warcraft Logs Companion allows players to upload combat logs from World of Warcraft, either live during play or after a dungeon or raid. The Warcraft Logs servers will then parse and analyze the log before making it viewable in game. No more tabbing out to view wipes, replay, and ranks.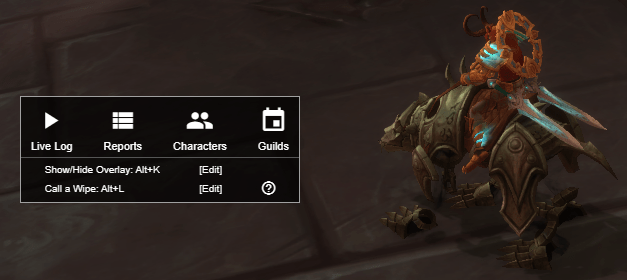 Intro
Bienvenido a Warcraft Logs, una web que ofrece análisis de combates para el MMO de Blizzard Entertainment: World of Warcraft. Registra tus combates y cárgalos al sitio para analizarlos en tiempo real. ¡Encuentra exactamente qué fue mal y descubre qué hacer para solucionarlo!
CARGA. ANALIZA. MEJORA.
Become a Patron!
¡Apóyanos en Patreon!
Suscríbete por sólo $1 usd/mes para poder navegar el sitio sin publicidad, saltar lugares en las filas de clasificación en horas pico y evitar que tus denuncias sean eliminadas.
Velocidad (Without Trash Skips)


Velocidad (Without World Buffs)
Velocidad (Without Trash Skips)
Boss Damage (Restricted, DPS)
Boss/Trash Damage (Restricted, DPS)
Boss Damage (Restricted, Tanque)
Curación (Restricted, Healer)